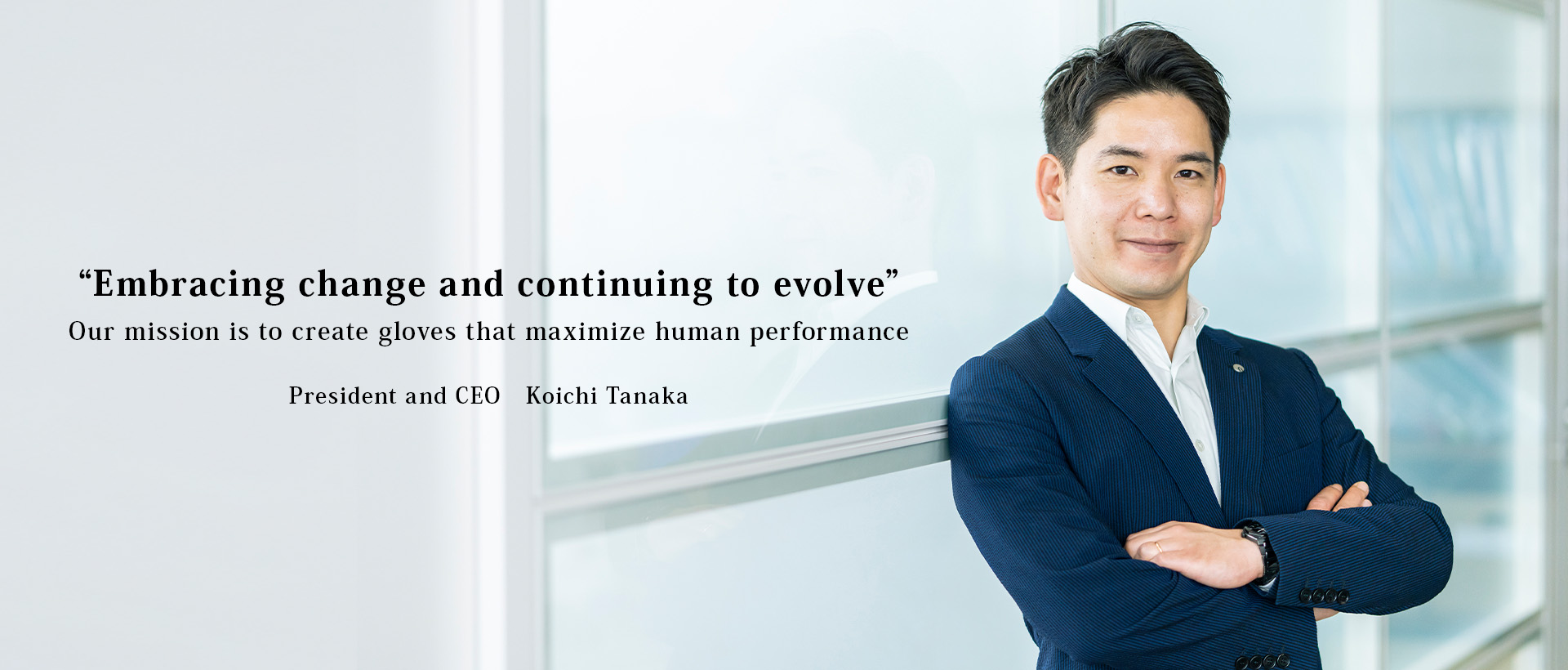 Message from the CEO
Naigai Corporation was founded by Toyoichi Tanaka in Higashikagawa, Kagawa Prefecture in 1954, then know as Sanpi Corporation. The town has a 130-year history of glove making town.
He established Sanpi Corporation and launched it as a glove manufacturing firm.
In 2017, Naigai opened a new chapter in its history and greeted its 63rd anniversary.
I am the second-generation CEO and took the helm at age 36 in 1985.
Enormous changes have rocked the world during over the last 32 years.
From the economy, to politics, culture and religion, every area has changed in ways that experts could never have predicted. Trying challenges have risen up to face the peoples of the world.
Looking back on our history of overcoming adversity during this time, I am simply amazed and proud of how far we have been able to come.
Fifteen years ago, we established our PVM philosophy: Passion, Vision, and Mission. Since establishing this philosophy, the speed at which Naigai has grown and expanded had exceeded all expectations. So, how will we stay strong and hit that magic number of 100 years? We will continuing with this Passion, Vision and Mission utilizing vital elements of our philosophy; trajectory, vision and a set of milestones for achievement.
Even the best vision cannot be achieved without a sense of mission to realize it in the right context.
Refinements and insights obtained through observational analysis allow an organization to rapidly deploy the PDCA (Plan-Do-Check-Act) cycle and readily adapt to change. What kind of workflow makes that possible?
For 32 years, I have believed that establishing overseas subsidiaries and partnering with factories abroad was essential for adapting to change. However, we now look back and see that adapting to economic conditions alone is not enough.
What has sustained us for these 32 years is in fact the collaboration of the talented people who choose to work with us every day.
Thanks to expanding overseas, we now have a very diverse pool of talent at Naigai from Sri Lanka, Myanmar, Indonesia, South Korea, Taiwan, China, Japan, the USA, and more.
We are proud to have such a diverse roster.
Everyone is unique and different. The unique values and ideas of people who come from differing countries, cultures, ages, genders, educational backgrounds, careers, and lifestyles truly brings a rich range of experience to the table. This is diversity itself.
As a diverse team of people share ideas and emphasizes coexisting with mutual understanding and respect, we can work together to sharpen Naigai's competitive edge and continue going to 100 years and more.
Going forward, we intend to respect and leverage the diversity of the members of the Naigai group of companies in order to meet our customers' needs to the fullest.
We have another 38 years to go to become a 100 year-old company. Keeping the flame alive for the next generation, I want to convey my passion and continue giving my all for this company so long as my health allows.
I look forward to your continued support and guidance as Naigai steps into the future.
  January 2017